The news has been inexorably bad for the last few weeks and I have been in no mood to write anything (in case you hadn't noticed). The 3rd round of Israeli elections yielded exactly the same results as the second and first rounds (surprise!), i.e. a stalemate. This time Netanyahu and Likud received a marginally higher number of seats but they still can't form a government. The Blue & White-Labour camp similarly can't form a government.
However the good news is that the corona virus has knocked some sense into our leaders and it seems very possible that a national unity government will be formed. At this stage any government at all would be good news, after a whole year of no government at all.
Meanwhile the coronavirus is wreaking havoc on the entire world, and Israel is no exception with 126 cases as of this writing.  The country gradually closed itself off from the world. First foreigners from certain European and Far Eastern countries were banned from entry, then returning Israelis from those countries had to go into quarantine, while Israelis returning from other countries only had to avoid crowds of more than 100 for 2 weeks (including my own hubby). As of this week, the quarantine net was widened. No foreign citizens are being allowed in at all unless they can prove they have a place to self-quarantine for 2 weeks (hotels not allowed), and Israelis have to self-quarantine at home.
Outgoing flights are gradually being halted as other countries catch up and stop entry to outsiders.
Meanwhile the government has closed down schools and universities, municipal gyms, cinemas and theatres.  Other leisure centers like cafes and restaurants, as well as synagogues, must not hold more than 100 people. Weddings and funerals too must not include more than 100 people.
This new rule – which goes completely against the Israeli grain of "the more the merrier" with huge weddings of 500-600 people being the norm, and large synagogue congregations – has birthed some creative solutions.
Last night my nephew attended a large wedding, which took place in four (!!) halls: the friends of the bride in one hall, family of the bride in another, friends of the groom in one and family of the groom in another! The management went round with a clicker to count the participants. Kol hakavod to the families and the hall for their clever solution.
Here is another wonderful solution to a large wedding which was planned in Italy. The wedding indeed took place, but on a much smaller scale, as Sivan Rahav Meir writes:
וריה זעירא מקהילת "ראש יהודי" בתל אביב שלחה את הוידאו עם הסבר: "אני משתפת בהתרגשות. יוסף מנדה עלה ממילאנו שבאיטליה לישראל לפני שש שנים. הוא היה אמור להתחתן עם אמונה, גם היא מאיטליה, באולם פאר איטלקי עם מאות מוזמנים. אמונה הגיעה לארץ לפני שבועיים, ונכנסה ישר לבידוד… הם הבינו שכל התוכניות משתנות, חוץ מהעיקר – להתחתן. אתמול אמונה יצאה מהבידוד, והיום עמדה מתחת לחופה עם יוסף. מעכשיו לעכשיו, התארגנה חופה צנועה, פשוטה ומקסימה ברחוב גורדון בתל אביב, ששודרה בשידור חי למשפחה באיטליה. חיתן אותם הרב אריה לוין, הנכד של הרב אריה לוין זצ"ל, ואז כולם (פחות ממאה איש, לא לדאוג!) רקדו ושמחו איתם בדרך למסעדה של חבר איטלקי, פה בדיזינגוף. הקורונה לא תנצח את השמחה, האהבה והקדושה".
Translation of the post:
Moria Zeira from the "Rosh Yehudi" community in Tel Aviv sent the video with an explanation: "I share this with great excitement. Joseph Manda immigrated from Milan, Italy, Italy to Israel six years ago. He was supposed to marry Emunah, also from Italy, in a fancy Italian hall with hundreds of invited participants. Two weeks ago, Emunah arrived from Italy and went straight into isolation … They realized that all their plans have to change, except the main thing – to marry.  Yesterday, Emunah came out of isolation, and today she was under the canopy with Joseph. From one minute to the next a modest, a simple and charming chupah was arranged on Gordon Street in Tel Aviv, which was broadcast live to the family in Italy. They were married by Rabbi Aryeh Levin, the grandson of the famous Rabbi Aryeh Levin zt"l, and then everyone (less than a hundred people, don't worry!) danced and rejoiced with them on the way to the Italian restaurant of a friend of theirs, here on Dizengoff Street. The Corona will not defeat the joy, love and holiness. "
What a beautiful and moving post, showing the Israeli skills of improvisation and resilience, and giving us a great dose of optimism in these difficult times. Mazal tov to Moriah and Yosef, may they enjoy long and happy and healthy lives together ad 120!
Another happy story with an Italian connection relates to the barmitzvah of an Italian boy which had to be cancelled due to the coronavirus havoc. Who came to save the day? Aboud Dandachi, a Syrian Muslim living in Canada!
(JTA) — Aboud Dandachi isn't Jewish. Or Israeli. Or Italian. Or sick with coronavirus.
He's a Muslim from Syria living in Canada.
But when he read the Jewish Telegraphic Agency story about an Italian boy whose bar mitzvah was curtailed because of the rapidly spreading virus, Dandachi responded in a way he figured Jews might appreciate: He donated $18 in honor of Ruben Golran to the Canadian branch of the Jewish National Fund to plant a tree in Israel in the teen's honor.
"This is what I know how to do," said Dandachi, 43, of Toronto. "I've had friends in Canada, Jewish friends who have children, and they seem to appreciate it. That's how I know how to commemorate such an occasion."
This is far from Dandachi's first encounter with Israel.
After fleeing Syria as a refugee in 2013, he has been an outspoken supporter of Israel and its prime minister, Benjamin Netanyahu. Dandachi, who moved to Canada in 2017, even supports Netanyahu's plan to annex parts of the West Bank. An IT specialist by profession, Dandachi founded an organization called Thank You Am Israel in appreciation of Israeli efforts to aid Syrian refugees.
Ruben's bar mitzvah in Milan last week was supposed to have 600 guests. But Milanese authorities banned large public gatherings due to the spread of coronavirus in northern Italy, so the celebration became much smaller.
His father, Elia, told JTA that he has been moved by the response to his son's predicament. In addition to Dandachi's gift, Golran heard from a Jewish person in New York who plans to send a painting to the family in honor of the bar mitzvah.
"I was in tears next to my computer," Golran said. "To see that there's a Muslim from Syria who donated a tree in our land, you understand that this is something special, special, special."
What a beautiful inspiring gesture from a very unusual and very inspiring figure. Kol Hakavod to Aboud Dandachi, and Mazal Tov to Ruben Golran on his Barmitzvah. Please G-d he will be able to celebrate many bigger smachot in the future.
One final item of good news connected to the coronavirus is that the most seriously ill of the Israeli patients hospitalized, a bus driver who drove a tour group of Greek pilgrims around Israel, has started to improve.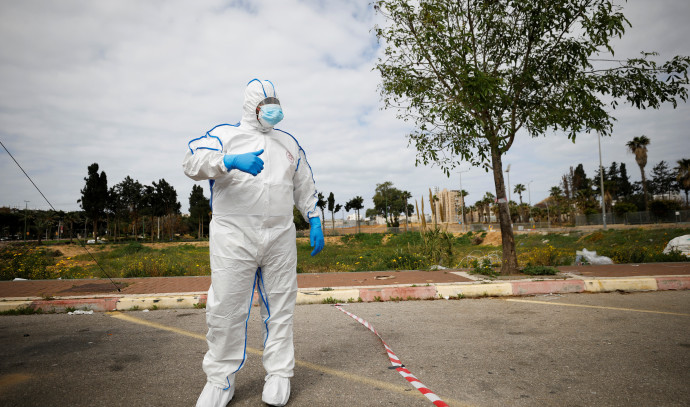 Here is the Hebrew followed by my own translation:
שיפור נרשם במצבו של נהג האוטובוס שהסיע את הצליינים היוונים שאובחנו כחולים, ומאושפז בבית החולים פוריה בטבריה, וכעת הוא נושם בכוחות עצמו, כך נמסר הבוקר (שישי) מבית החולים. עוד נמסר כי הוא מקבל טיפול תמיכתי ולצידו טיפול נגד הקורונה. מצבו מוגדר כעת כבינוני
ד"ר מתן משה, מומחה טיפול נמרץ, בבית החולים ציין כי מדובר בחולה הראשון המקבל בארץ את התרופה הזו, אשר נוסתה ברחבי העולם לטיפול בנגיף. בנוסף, בשעות הצהריים הנהג אף שוחח בקצרה בטלפון עם הוריו המודאגים
An improvement was noted in the condition of the bus driver who drove the Greek pilgrims who were diagnosed as sick, and is hospitalized at Poriya Hospital in Tiberias, and is now breathing on his own, the hospital said Friday. He was also reported to receive supportive treatment and anti-corona treatment. His condition is now defined as medium.
Dr. Matan Moshe, an ICU specialist in the hospital noted that this is the first patient in Israel who has received the treatment, which has been tried out elsewhere in the world.
In addition the driver spoke to his worried family in the afternoon by phone.
Last weekend, his condition worsened and he was sedated and ventilated. The hospital then stated that drug treatment was started according to protocols appropriate to the virus, as tried in other countries.
The treatment that was given to the patient is apparently Remdesivir, according to the Israeli Ministry of Health Telegram updates. This drug has been developed by the Israeli Gilead Sciences, as I reported in my previous post, in cooperation with health authorities around the world.
If this drug is really what has brought about the patient's improvement, and not simply his own immune system, this is fantastic news as the world struggles to find a treatment and a vaccine. Halevai (if only) it should be so!
Wishing you all a quiet, safe and HEALTHY weekend. Please look after yourselves, wash your hands frequently and thoroughly, and abide by the rules of your authorities for everyone's sake.
Have a good weekend everyone!
…
Published at Anne's Opinions