In a BBC interview Andrew Neil was unable to get any kind of answer on why Jeremy Corbyn was unable to tackle antisemitism.
I think the point missed here is that Jeremy Corbyn is antisemitic, so why would he want to stop it? He has been seen around the Middle East meeting up with the worse Israel/Jew haters around.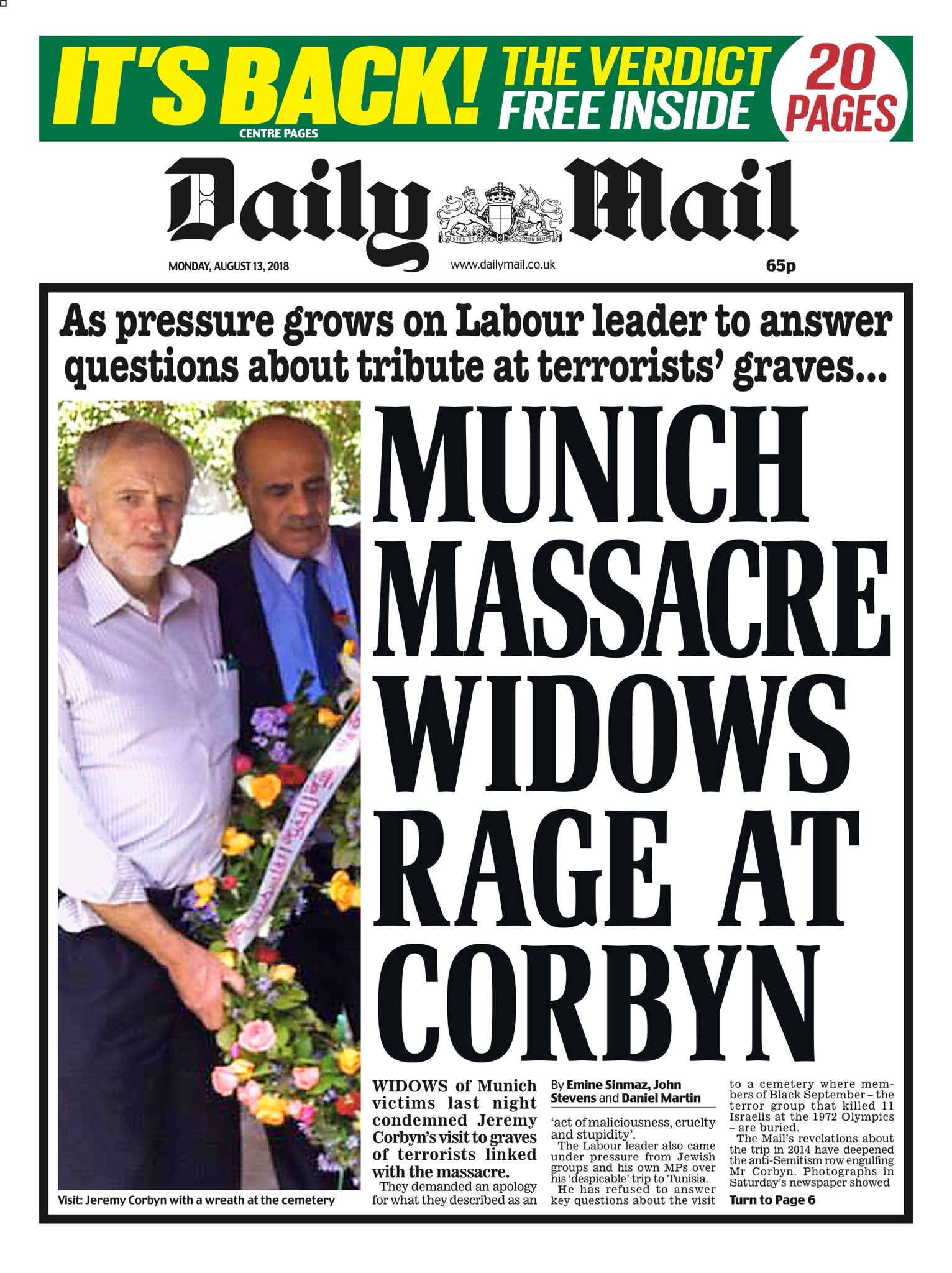 The members of the Labour party are deserting in droves.  Seven sitting MPs have resigned and left too due to the antisemitism. They have openly stated that fact and have urged people not to vote Labour, but to vote for Corbyn.
Andrew Neil demanded that he apologise, but Corbyn tried to dodge it and talk about other forms of racism instead.
"Wouldn't you like to take this opportunity tonight to apologise to the British Jewish community for what's happened?" the BBC interviewer asked.
"So, no apology?
"No apology for how you've handled this?
"I'll try one more time … no apology?"
The veteran broadcaster said that viewers would "make up their own minds" on whether he had done enough to tackle such hatred.
Mr Corbyn insisted that "racism in our society is a total poison, be it Islamophobia, antisemitism, or any other form of racism".
"That is what my whole life has been about," he snapped back, claiming he has put in a place a stronger process for weeding out racists.
He was forced to deny that antisemitism had increased under his leadership.
Elsewhere in the damning broadcast clash:
• He refused repeatedly to say whether it was antisemitic to say that "Rothschild Zionists run Israel" — as a Labour member did but was not suspended
• Mr Corbyn defended his decision to stay neutral in a future Brexit referendum — saying it would make him an "honest broker" in the vote
• He was pressed to admit that ordinary married Brits on low incomes would face extra taxes under his government
• And he was grilled on where "Corbyn's credit card has a limit" with his £83 billion ($157 billion) fantasy borrowing promises
Prime Minister Boris Johnson has blasted him as "naive and dangerous" for saying the Islamic State chief Abu Bakr al-Baghdadi should have been arrested and not killed.
TV host Piers Morgan said the interview was "brilliant" and Andrew Neil "absolutely skewered" the Labour boss.
"No wonder Corbyn ducks most tough interviewers — he has no answers to tough questions," he said.
Former Labour MP Mike Gapes said, "Corbyn does not apologise. Period. In his eyes he is never wrong. He cannot admit error. He is incapable of apology. Particularly to the Jewish community. He is unfit to be Leader of the Labour Party. He must never be Prime Minister of our country."
And former Labour minister Chris Leslie said, "What a tragedy for the whole country that the once-great Labour Party has ended up in this state. Those of us who took a stand tried to prevent this very situation. Such a shame that those who 'stayed' never actually had the fight to do anything about it."
Conservative MP Michael Gove said, "Jeremy Corbyn won't be straight with the British people. He won't apologise for his failure to stamp out racism in his party. He can't say whether he backs leave or remain in his own second referendum. He can't answer how he would pay for his fantasy plans for the country or how he'd keep Britain safe."
It was funny. Corbyn could get out of the studio at the end quick enough.  Since then he has refused other offers to be interviewed
AND
Britain's Chief Rabbi, Ephraim Mirvis, has been backed by Christian, Hindu, Muslim and Sikh leaders after he ­attacked the "poison" of antisemitism in Jeremy Corbyn's ­Labour Party.
Ephraim Mirvis put Mr Corbyn's record on antisemitism at the heart of the election campaign on Tuesday when he wrote in "unfit for high office".
He warned that the "very soul of our nation is at stake" on December 12.