Royal Visit to Israel
The news that Prince William is to make the first official royal visit to Israel is welcome.
"Kensington Palace said that the Duke of Cambridge would visit later this year as part of a Middle East tour:
The high-profile visit was "at the request of Her Majesty's government and has been welcomed by the Israeli, Jordanian and Palestinian authorities," it added.
Israel's prime minister, Benjamin Netanyahu, lauded the announcement of the visit, which he said would be the first of its kind.
Israeli media have reported several invitations offered by Israeli officials to British royals but none, until now, has been accepted…"
Back in 2015, Jerusalem Post journalists queried why the Royal Family visits Saudi Arabia but not Israel.
"In the 67 years since Israel was founded in territory once controlled by Britain, no member of the Royal family has ever visited in an official capacity. While Prince Charles and others have occasionally set foot in Israel, Buckingham Palace and the British Government have been at pains to stress they were personal visits and not official ones.
The rejected invitations are a source of deep frustration for Israel, especially as the Royal family has made high-profile visits to authoritarian regional neighbours like Saudi Arabia and Qatar.
 "We're the only democracy in the Middle East and so you ask why do the Royals go to the Arab dictatorships around us but they don't come here?" said one Israeli official.
"Is there another member state of the UN that the British Royals have so consistently and assiduously snubbed in this way?" asked David Landau, an Anglo-Israeli journalist.
The explanation for the absence is acutely sensitive. The Queen's official visits are coordinated by the Government of the day and reflect foreign policy priorities, not her personal preferences.
The Foreign Office declined to comment, but British officials say there are too many political landmines in the way of a visit to a country that occupies Palestinian territory and lives within disputed borders.
Some Israelis have long believed that the Foreign Office blocks any Royal visits because of its supposed domination by Arabist diplomats.
Emails sent by one of Prince Charles's aides in 2007 also hint at suspicions among Royal staff that Israel would try to make political capital out of a visit. One former British official said the government sees the offer of a Royal visit as a bargaining chip which could be redeemed in return for business or political deals.
While Saudi Arabia is a large buyer of British weapons and professional services, Israel is not. There may therefore simply be less of an incentive for the Government to deploy a Royal visit.
The royal family's ambivalent attitude to Jews, while showing a fondness for Arab potentates, is perhaps not surprising, given their German ancestry. Indeed, German historian Karina Urbach claims documentation on the monarchy's connections to Hitler  is being hidden:
"Urbach published "Go Betweens For Hitler," a book that explores how members of the aristocratic class across Europe worked as secret negotiators for Hitler during the interwar years.
Urbach's book discusses an additional, international dimension to this secret diplomatic back channel, most notably from members of the British royal family.
This flirting with Nazism on the part of the royal family caused a media storm as Britain's The Sun published a cover story with the headline "Their Royal Heilnesses." showing the seven-year-old future Queen Elizabeth II performing a Nazi salute in a hitherto-secret 1933 family video… young Elizabeth is seen playing with her corgi, dancing, and also raising her right arm three times, alongside her mother, Queen Elizabeth, sister Princess Margaret, and uncle Edward VIII.
The Sun's publication has caused immense debate in the UK. Are the pictures an outrageous invasion of privacy, or a timely reminder that Edward VIII, briefly Britain's king, dabbled with fascism?
Is it possible that certain British historians have consistently tried to play down antisemitism in the British royal family during the 1930s?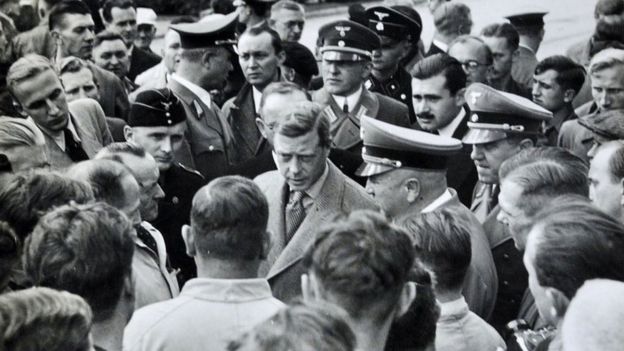 "Edward VIII was particularly attracted to the Nazis because of their social ideas," says Urbach, who  focuses on royal relative Carl Edward and his loyalty to the Nazi movement for nearly two decades. It would appear his ties to Hitler helped to create a widespread culture of anti-Semitism among the British monarchy.
"Carl Edward's British network was very useful for Hitler…Hitler was an Anglophile, and his dream] was to have an alliance with Britain."
Gleaning more information on how members of the British Monarchy empathized with and supported the Nazi regime during the 1930s is today almost impossible, says Urbach, because the Royal Archives at Windsor have a strict embargo on royal correspondence for the interwar years.
It's hardly surprising. During the 1920s and 30s, under the influence of conversations they had with their German relatives, many British royals became deeply embroiled in Fascist ideas, even flirting with Nazi ideology.
… the antisemitism that pervaded Nazi ideology didn't present any kind of moral dilemma for members of either the German or British aristocracy.
"Jews were always seen as scapegoats in the eyes of the aristocracy,"  Urbach claims. "In the 19th century Jews represented liberalism, which the aristocracy definitely didn't support. Then in the 1918 revolution in Germany [which resulted in the Weimar Republic], it was Jews who were also taking part."
Urbach points to evidence showing Carl Edward donating generously to the Nazi party for years; she documents how he bankrolled political murders, and says he knew about the death camps in Buchenwald.
The historian believes the influence the Nazi party had on the British monarchy can be traced back to the German relatives of Queen Mary of Teck, the wife of King George V, mother to King Edward VIII, George VI, and grandmother to the current queen.
The Times of Israel asked whether this withholding of information was happening for fear that the contents might paint a picture of the British royal family as deeply anti-Semitic?
"Yes, of course," Urbach replied. "The British upper classes were deeply antisemitic during this period. This has been swept under the carpet."
In the UK, the royal family is often portrayed in the British media as apolitical: an institution that represents tradition without political power. But when certain members of that institution are continually attempting to hide their family's past dealings with Nazi sympathizers, surely this is highly undemocratic and needs to be investigated further?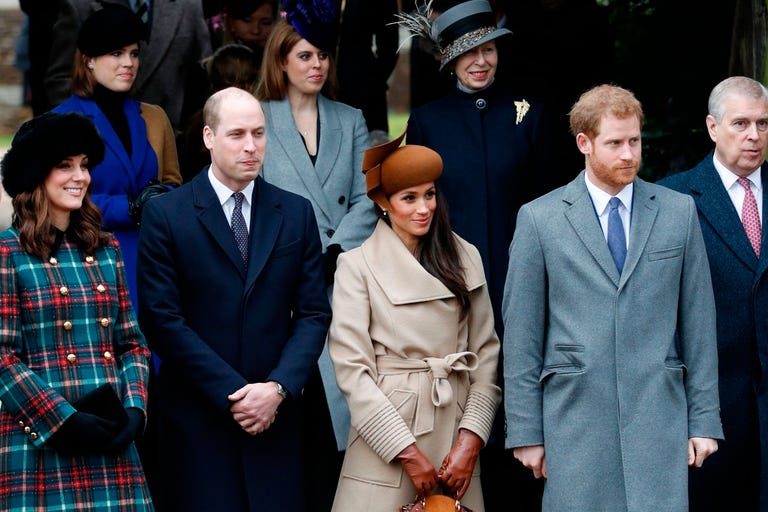 While no doubt in the past there has been antisemitism, I believe the current young royals – William and Kate, Harry and Meghan – represent a refreshing break from the past and should not be tarnished by past associations.
As for Prince Charles, his position is less clear. Julie Burchill writes:
 " A lot of the reason left-wing men seem to have so much time for Islamism is to do with suppressed feelings of resentment towards the march of feminism…This chain of fools would not be complete without its crowning clown, the Prince of Wales, whose liking for strolling around his 'Islamic garden' wearing a dishdasha and wittering on about wanting to be 'Defender of Faiths' have oft made me sing 'God Save The Queen' with especial emphasis. In the past I have ventured the opinion that he is fond of Islam because its monarchs are free to divorce unwanted wives at a whim. But a letter, written to his mentor Laurens van der Post in 1986 after a tour of Arab states, suggests that mistrust of Jews may be another reason for the heir apparent's Islamophilia. Here are the humbuggy highlights:
'Tried to read a bit of the Quran on the way out and it gave me some insight into the way they [Arabs] think…Much admire some aspects of Islam — especially accent on hospitality and accessibility of rulers…The influx of foreign Jews, especially from Poland, has helped to cause great problems…Surely some US president has to have the courage to stand up and take on the Jewish lobby?'
It is understandable that someone who got a B in history and a C in French at A-level, yet was still accepted at Cambridge because of who his parents are, would feel antipathy towards the Jews, the ultimate clever and self-starting race… It's completely comprehensible that this most Marie Antoinettish of monarchs-in-waiting, forever yearning for a time when food was fresh and women were treated as a cross between children and livestock, would yearn for a bit of noble savagery.
Still, this is such a strange and creepy missive… it takes a truly ill-informed mind to bypass the horrendous historical events which drove so many European Jews to leave the lands they had lived in and contributed to so magnificently for centuries and ship out to a sliver of ancient homeland.
The letter ends on a horrible 'humblebrag'… 'I must be naive, I suppose!' By this, the Prince of Wales is suggesting that he sees the world with the clear eyes of a questing child, one undazzled by Jew-gelt, presumably.
Back in 2009, Stephen Fry claimed Princess Margaret was antisemitic:
" Fry claimed that the Queen's sister had been shocked when he told her at a dinner party that he had Jewish ancestors. Fry… alleged that she expressed her horror by shouting to everybody else at her table: "He's a Jew. He's a Jew."
Lord Glenconner, one of the Princess's loyal friends, is surprised by Fry's claims, pointing out that Margaret's chum Peter Sellers was Jewish, and  adds: "It's a bit unfair of him to say these things when she cannot defend herself."
As for the Queen, how she feels about Jews remains a mystery, as this article written in  her diamond jubilee year, explains
"Thousands of Jewish men of a certain age have an intimate connection with Britain's next king. Like them, the Prince of Wales, Charles, was circumcised by Rabbi Jacob Snowman M.D, at the time the leading mohel in London and the circumciser to the royal family… the fact that the delicate act was performed upon the royal princes by a Jewish practitioner, a custom dating back to George I, who brought it over from his native Hanover, has long been a source of pride within the local community.
… as Britain begins a four-day jamboree celebrating the diamond jubilee, in shuls the prayer for the health and good counsel of the monarch will be read out. Many will reflect that over the course of history, this ancient text was never said by so many Jews, for so long and with such sincerity as it has been over the sixty years of Queen Elizabeth II's reign.
The high regard in which Britain's Jews hold their queen has little concrete evidence to lean on. Part of Elizabeth's long-enduring popularity is derived from the fact that in six decades as head of state she has almost never used her royal prerogatives and her personal views on matters of state, despite her weekly meetings with the prime minister and her exclusive access to the government's affairs, next to nothing of her personal views, likes and dislikes, asides from a predilection for Corgi dogs, is known.
But let's not focus on the past. The new royals are a different breed, thanks partly to both choosing brides outside the royal bloodline.. Markle was married to Jewish producer Trevor Engelson from 2011 to 2013, and the pair had a Jewish wedding in Jamaica, while Kate Middleton, (who incidentally, despite Jewish-sounding names in her ancestry – Goldsmith and Myers – is not Jewish) has no antisemitic antecedents. As for Harry's swastika dress-up, it can be excused as youthful ignorance.
So let's embrace these New Royals.