The Nation of Israel Lives – Am Yisrael Chai
Here in Israel, we have just completed Simchat Torah, a holiday of joyous celebration of the Torah.  Many of us found it difficult to go into the holiday.  A strange thing: To celebrate on holidays, even in the face of tragedy and suffering.  But this is our way, and perhaps an important secret of our strength.
I want to share here (with thanks to my daughter Sharon) words from Harav Dovid Sperling, delivered on Sunday before the beginning of Simchat Torah.  A teacher for 20 years at Nishmat – the institute of Torah study for women founded by Rabbanit Chana Henkin – he relays a powerful message from the Rabbanit, who just lost her son, Eitam, and daughter-in-law, Naama, in the horrendous terror attack:
~~~~~~~~~~
"I spoke on Shabbat to Rabbanit Henkin (when I paid a call to her and the Rav in their Sukkah – may they be comforted amongst all the mourners of Zion). I asked her if there was anything I should say to the Beit Midrash [the hall of study] for her.
"She would like us continue and increase in our learning of Torah. Because the Torah is a tree of life to those that grasp it. Because the more Torah there is in Am Yisrael [the nation of Israel] the more life there is in Am Yisrael – and while the evil in the world strives to diminish our lives, we will increase it. Because the Torah is light. Because the more Torah we learn the more light there is in the world – and while the darkness of evil tries to extinguish the light, we will increase it. Because Eitam and Na'amah lived a life of Torah, for Torah, and in their merit we will continue and increase Torah.
"She would also like us to celebrate with joy on Simchat Torah. To hold the Torah tightly close to our hearts, to kiss it and raise it high. To dance with the joy of Torah because now, more than ever, may we merit that the joyful light of Torah shine forth, on us, and all Yisrael."
~~~~~~~~~~
How proud we Israelis can be.  How truly special we are.
In the face of overwhelming loss, Rabbanit Henkin calls for religious study, and celebration of Torah.  For the merit of those who died.
No tone of vengeance.  No calls for violence.
I've seen this again and again here, and I am in awe.
~~~~~~~~~~
Compare this, please, with this video of celebration of the terror attack by Arabs in Hevron on Friday night.
Just 30 seconds of this video, and you will understand why in the end we will be victorious.
~~~~~~~~~~
A note of correction: On Friday I reported that there were two additional Henkin children who were not in the car when the terrorists attacked.  I had picked it up from several sources, but the information was wrong.  There are only the four Henkin children who had witnessed the slaughter of their parents.  The eldest, age nine, rose at the funeral to say the mourners' kaddish, tearing hearts out.
This too is an extraordinary testament to our strength: A nine-year old who had seen his parents killed, standing to recite the traditional praise of God, which is what the kaddish is.
~~~~~~~~~~
The Shin Bet (Israeli Security) has announced the arrest of a five-man Hamas cell from Shechem (Nablus) in Samaria, understood to be responsible for the terrorist murders.  They were apprehended within 24 hours of the attack and have confessed.  Additional suspects believed to have lent assistance are also in custody.
The shooting was done from very close range, it has been reported.
http://www.jpost.com/Arab-Israeli-Conflict/Security-forces-arrest-Palestinian-terror-cell-for-double-murder-419999
My opinion, and that of many: Only death is an appropriate punishment.
~~~~~~~~~~
It remains important that the world know about this attack, and so I ask that you share information in a variety of venues.
What is more, take the time to register a complaint to major media news sources that have failed to report on this.  My information is that it did not appear in mainstream newscasts, not on CNN, ABC, CBS, NBC, or on Fox. Demand to know how they could have passed this by.
~~~~~~~~~~
Sadly, horrendously, there were more Jewish deaths before Simchat Torah began.  This news, 48 hours after the Henkin murders, left our heads spinning.  Left us, once again, unable to take a breath.
This attack was in the Old City of Jerusalem on Saturday night.  An Arab wielding a knife attacked a couple with a young child.  When a passerby – Rabbi Nehemia Lavie, 41, an Old City resident who worked at the Ateret Cohanim Yeshiva – came to help, he was attacked in turn.
Both men, the husband, Aharon Benita, 21, and Lavie, died of their wounds after being rushed to the hospital.  The wife, though wounded, ran for help.  She reported that she was spat upon by Arabs as she ran.  Police, rushing to the scene, shot the attacker dead.  He was identified as a resident of al-Bireh, near Ramallah, in Samaria.
The wife, Adele Benita, 22, required surgery and was placed on a respirator in critical condition, because of stab wounds in the chest; the child was declared stable.
Islamic Jihad claims responsibility for this attack.
~~~~~~~~~~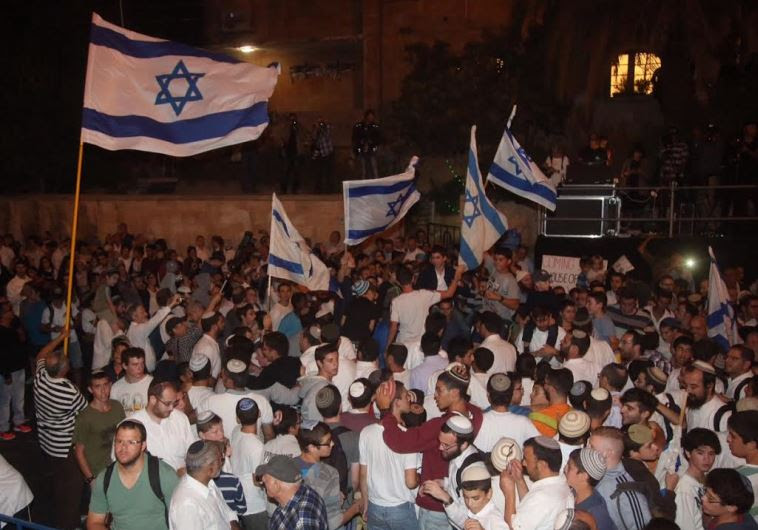 Netanyahu, who has now held an emergency meeting with the Cabinet, made a statement earlier tonight (emphasis added):
"Police are entering the center of Arab neighborhoods as never before. We will destroy terrorists' homes. We will allow security forces full freedom of activity against rock throwers and firebomb attackers. We need to take these steps in order to protect Israelis in cities on the roads, and throughout the country.
"We will not provide immunity to any rioter, inciter, or terrorist, not anywhere and under no conditions.  Israel's security forces have no limits when it comes to defending Israelis. We will act against Hamas, the Palestinian Authority, and the Islamic Movement…"
http://www.israelnationalnews.com/News/News.aspx/201442#.VhLQVpuhfIU
~~~~~~~~~~
It is critical that this statement on policy hold, without backtracking.  There has been too much concern about what the world will say, too much reluctance to be truly tough, when we are watched 24/7.  The Arabs and their supporters play it to the hilt, with regard to Arab "human rights."  Abbas even criticized the fact that the police shot the stabber dead in the Old City Saturday night.
There will be a great deal more to say about this.
~~~~~~~~~~
(Editor's note; Cannot embed this video sorry)
But now, tonight, in the face of all our difficulties, and coming straight out of Simchat Torah, I want to express optimism, and close with the late, incomparable Rabbi Shlomo Carlebach, singing "Am Yisrael Chai" to the tune he wrote.
~~~~~~~~~~
© Arlene Kushner. This material is produced by Arlene Kushner, functioning as an independent journalist. Permission is granted for it to be reproduced only with proper attribution.
Contact: akushner18@gmail.com
If it is reproduced and emphasis is added, the fact that it has been added must be noted.
Website: http://www.arlenefromisrael.info/
"We Have Legal Grounds" –
Facebook: https://www.facebook.com/legalgrounds
Website:    http://israelrights.com/en/
Twitter:     https://twitter.com/legalgrounds67