I wrote previously about the 'sacred' concert at Temple Beth Israel, which featured the Islamic Call to Prayer by Abdul Aziz al Mathkour and Brother Wasem Razvi of the Islamic Research Education Academy (IREA), a group whose mission is to convert the infidel! As if that's not bad enough, they recited Surah 55, which describes how Muslim men will enjoy deflowering virgins in paradise.
Now Temple Beth prides itself on being progressive, particularly with regard to gender issues. They even have Same Sex Commitment Ceremonies
TBI prides itself on its egalitarian values. Not only are men and women treated equally in virtually every respect, but there is also a respectful and welcoming attitude towards those who form minority groups in our society. Among these groups are gays, lesbians, transgendered and others whose sexual orientation is different from the majority heterosexual orientation.
Some years ago the Council of Progressive Rabbis (Moetzah) of the Union of Progressive Judaism in Australia, New Zealand and Asia (UPJ) passed a resolution allowing its members to perform commitment ceremonies for Jewish gay and lesbian couples. TBI rabbis are proud to officiate at such unions.
http://www.tbi.org.au/celebrate/same-sex-commitment-ceremonies/
With these egalitarian credentials ringing in her ears, you'd think that Rabbi Kim Ettlinger – who was in the audience – would have stood up and walked out at this point. Any self-respecting feminist would have done so. But she was happy to remain sitting next to Rabbi Fred Morgan, who was photographed smiling broadly (the caption under their photo in the Jewish News reads
"Rabbi Fred Morgan and Rabbi Kim Ettlinger enjoying the concert").
It's hard to see how either could condone Surah 55, which turns their touted 'egalitarian values' on its head: no equality for women in this paradise! Progressives criticise orthodox Jewry for separating men and women during prayer, yet apparently have no problem with men using women for sex, which seems a tad hypocritical. I wonder if the Temple would invite an Orthodox Jew to recite the traditional prayer, abhorrent to Progressive Jews, thanking G-d "for not making me a woman". Yet paradoxically, they have no qualms in allowing Muslims to recite an obscenely sexist Surah.
Another female rabbi, Shoshana Kaminsky , of Adelaide Progressive Synagogue, espouses radical causes. The darling of the Australian Jewish Democratic Society, she was also praised in the antisemitic publication, 'New Matilda' – which gives you some idea about her politics. She was recently arrested and charged with trespass after taking part in a sit-in at a federal MP's office, where she and eight Christians protested the treatment of asylum seekers.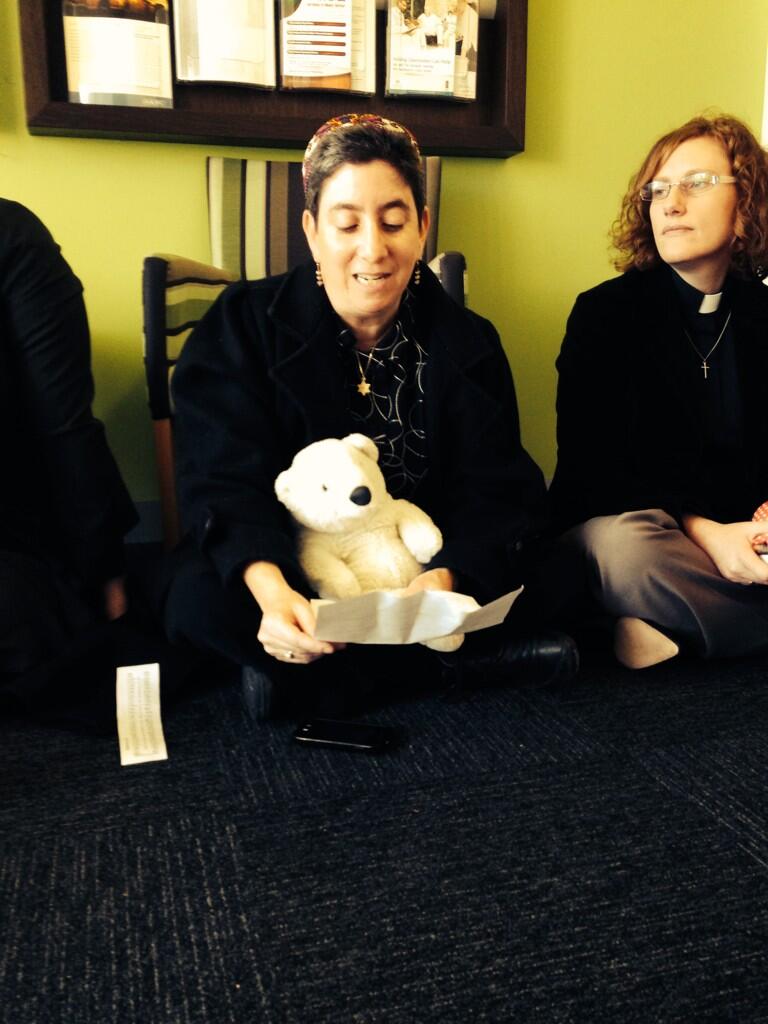 She said she and other members of the Love Makes A Way group staged the occupation of Liberal MP and federal minister Jamie Briggs's office because the Inverbrackie detention centre is in his Mayo electorate.
…Rabbi Kaminsky said Inverbrackie is reportedly being used as a maternity centre for pregnant asylum seekers who are then returned to offshore detention with their babies.
The US-born Progressive rabbi from Beit Shalom Synagogue said:
"I think it's really appalling that these intentionally cruel policies are being carried out in the name of all Australians. And I believe it is of particular concern to Jews, both because of our own history of having doors slammed in our faces but also because the most frequent mitzvah in the Torah is not to mistreat the stranger."
Asked whether she was concerned to be encouraging disobedience of the law as a rabbi, she said:
"It is certainly something I did with great reluctance. But I believe that when our laws are unjust then there is good reason to violate what was a very minor law [trespass] to send the greater message that our asylum seeker policy needs to be changed."
Expressing support for Rabbi Kaminsky, Union for Progressive Judaism executive director Steve Denenberg said,
"It is our view that more religious groups and their representatives should be speaking out on issues of social justice and human rights, including the current government's inhuman policy on refugees and asylum seekers".
http://www.jewishnews.net.au/tag/rabbi-shoshana-kaminsky
Jews are told to abide by the law of the country in which they are living:
Jeremiah 29:7 "seek the peace of the city whither I have caused you to be carried away captive, and pray unto the LORD for it; for in the peace thereof shall ye have peace."
Yet it seems Kaminsky, while claiming to be a good Jew, is happy to ignore Jewish teachings about obeying the law.
Last year, Kaminsky took part in SYMPOSIUM 2013: Islam and Multifaith Relations, held at Pilgrim Uniting Church, Adelaide, and headed by Professor John Strawson, from the University of East London, who "works in the areas of postcolonialism and legal history… and has held positions…at Birzeit University (Palestine) and the International Islamic University Malaysia (Kuala Lumpur)…His publications include… Partitioning Palestine: legal fundamentalism in the Arab-Israeli conflict (2010).
As preparation for this event, attendees were urged to read the Christian contingent's working paper. Some extracts will give readers a sense of Kaminsky's faith partner's agenda:
4.2        Australian National Dialogue of Christian, Muslims and Jews
The Uniting Church in Australia (UCA) is involved in the Australian National Dialogue of Christians, Muslims and Jews, together with its founding dialogue partners, the Australian Federation of Islamic Councils (AFIC) and the Executive Council of Australian Jewry (ECAJ). Its purpose is… to come together to build understanding and harmony in the Australian context.
4.3        Uniting Church National Jewish Christian dialogue group
… it would be reasonable to suggest that the last two years had witnessed a diminishing in tension in the two groups, in particular the issue of Israel/Palestine. In previous times it was frequently raised by the Jewish group, and this quickly led to a defensive and robust apologia for the actions of Israel
4.4        Israel/Palestine Relations 
At meetings in late 2010 and early 2011, the Uniting Church in Australia Assembly Standing Committee (ASC) began to engage with matters relating to Israel and the occupied Palestinian Territories in the West Bank, and action previously taken in relation to this by the World Council of Churches (WCC), the National Council of Churches in Australia (NCCA) and other denominations worldwide.
In July, 2011, the ASC resolved to join the boycott of products produced in the illegal Israeli Settlements within the Palestinian Territory of the West Bank. This resolution was made in answer to a call for peaceful action from Palestinian Christians (Kairos Palestine, 2009), and in response to a request and resolutions from the National Council of Churches (NCCA)
Further, ASC invited church members and congregations to consider taking action with two main purposes. The first, encouraging the governments of Israel and Palestine to move more seriously and effectively towards a peaceful resolution of the conflict between them and second encouraging the Australian Government to use its influence more seriously and effectively towards a resumption of peace talks between Israel and Palestine, towards an end of the occupation of the Occupied Palestinian Territories and of the blockade of Gaza, and towards a two-state solution with secure internationally-recognized borders, in accordance with United Nations resolutions.  
A resource for members and congregations took the form of a kit, including:
An Information Paper
Question and Answer paper
World Council of Churches (WCC) and National Council of Churches (NCCA) resolutions
A Moment of Truth: A Word of faith, hope, and love from the heart of Palestinian Suffering (Kairos Palestine, 2009)
Jews and Judaism: A Statement by the Uniting Church in Australia Assembly 2009   and 'Light Eternal' a Study Kit
These resources can be found here.
At the time of writing this report these resources have been distributed throughout the church and there has been no adverse reaction in the Uniting Church or the UCA Jewish Christian Dialogue.
Muslim religious practitioners were happy to be a part of the consultative process for the development of these resources as were Jewish religious representatives. Robust discussions occurred regularly with representatives of the Jewish faith in the development of these resources.
http://www.assembly2012.uca.org.au/proposals-and-reports/reports/item/232-working-group-on-relations-with-other-faiths
No doubt where these Christians stand on Israel; nor is it surprising that the Muslim partners were happy with this demonisation and historical revisionism. What is shocking is that the Jewish partners, the ECAJ, had no objection to it. As for Kaminsky, these are the people she willingly breaks bread with.
Jarrod McKenna, who on his blog describes himself as "Pastor & Peace Award winning activist-trainer | hubby & dad" clearly admires the Rabbi. He writes:
On why she is willing to be arrested, Kaminsky said;
"I am risking arrest today because the most-repeated teaching in the Hebrew Bible is to treat the stranger with kindness. We Jews trace our roots back to the Hebrew slaves in Egypt 3000 years ago and re-enact the agony of slavery each year at the festival of Passover. The International Refugee law that our government is undermining was written to say "never again" after the Holocaust.  I cannot stand idly by and watch my government keep some of the world's most vulnerable children in detention when my faith commands me to act."
http://thebigsmoke.com.au/2014/06/23/smoke-signal-rabbi-christian-leaders-sit-asylum-seekers/
New Matilda loves Jewish fellow travellers. In Rabbi Speaks Out After Asylum Protest Arrest, Chris Graham writes:
A Rabbi arrested during a sit-in protest over the jailing of asylum seeker children at the offices of a federal MP has spoken out about her experience, and issued a call to other Jewish Australians to consider respectful civil disobedience over the issue.
Love Makes A Way is a movement of faith leaders which began earlier this year, when Christian leaders refused to leave the Sutherland, Sydney offices of Immigration Minister Scott Morrison. All the protestors were eventually arrested.
Since then, protestors have been arrested in Foreign Minister Julie Bishop's office in Perth, and at the Sydney offices of Prime Minister Tony Abbott, and the Melbourne offices of Bill Shorten, the Leader of the Opposition.
The protest has gathered pace nationally, and protesters have crossed denominations – Catholics, Baptists, Uniting, Anglican, and independent Christians.
But yesterday, in Adelaide, the protest also crossed faith lines.
The latest Love Makes A Way group – which consisted of eight Christians and one Jew – targeted the office of the Member for Mayo, Jamie Briggs.
The group consisted of Rabbi Kaminsky (Beit Shalom Progressive Synagogue), Rev. Jennifer Hughes and Rev John Hughes (Brougham Place Uniting Church), Ellen Mitchell (Rosefield Uniting Church), Kate Leaney and Amy Bradshaw (Activate Community (ACC)), Jana Norman and Rev Sandy Boyce (Pilgrim Uniting Church) and Peri Coleman (Religious Society of Friends (Quakers, North Adelaide Meeting)
Kaminsky said the protest was aimed not just at releasing children from detention."We came in with this idea of what's called a double victory – achieve our goal of having the children released, but also to win over hearts and minds to our cause.
"I think it's an issue that not only bridges faiths, but really should be taken up by people with no specific faith.

"It's an Australian issue. It's about what kind of country we believe we should be, and how we treat the most vulnerable people in the world.
Kaminsky paid tribute to her fellow protestors, who she said went out of their way to respect her beliefs.
"I really owe a tremendous debt of thanks to the people with me," she said.

"They were so incredibly respectful of my faith traditions, and worked so hard not to do anything to cause offence or exclude me."
Rabbi Kaminsky is the first Jewish leader to join the national protests, and she hoped other Jewish Australians would consider respectful civil obedience in the fight to release jailed children.
"This is a cause a number of Rabbis have written quite passionately about. We'll see after today if others are inspired to do the same as me."
No wonder her fellow protestors were respectful of her beliefs, which so neatly coincided with theirs – demonisation of Israel, resulting in a consequent weakening of Judaism, and contempt for the law of the land.
Last year, the Catholic Archdiocese of Melbourne – also a big supporter of Kairos, which demonises Israel – featured an article by Freda Kaufman, who wrote:

THE dilemma of treating refugees humanely yet pragmatically is a problem that has disturbed the Australian government and other governments of the world for many years. … one is deeply troubled by the lifestyle the newcomers are forced to lead and yearns for a humane solution. The Council of Christians and Jews recently held a symposium… to open up the Religious and Legal Attitudes on the Refugee issue to the public.
Rabbi Kim Ettlinger serves at the Temple Beth Israel in Melbourne and is an advocate for social justice and social action. She finds numerous guidelines from relevant biblical texts.  Here are some examples:
When strangers sojourn with you in your land, you shall not do them wrong. The strangers who sojourn with you shall be to you as the natives among you, and you shall love them as yourself; for you were strangers in the land of Egypt.
Leviticus 19:33-34
"How do we love them?" Rabbi Ettlinger asked. The answer lay "By giving them safety and security."
You shall not oppress the stranger, for you have known the soul of the stranger.
Exodus 23:

"We, the Jewish people who have a home in Australia, must remember that it is our duty to help those seeking a home, for we were so long in dispersion ourselves. We must remember that we were once also strangers," she said. Rabbi Ettlinger advised getting to know one's local politicians and urging them to insert programs to make sure the legislation would protect the lives of those settling in Australia.
Sheikh Abdinur Weli , the final speaker, is the Imam of the Islamic Council of Victoria and City Mosque…In the Koran the two main principles were to have faith and to treat people the way you would have them treat you.
"People were travelling and settling in new countries in ancient times," he said, quoting Abraham who migrated from Iraq to Jerusalem
http://www.cam.org.au/News-and-Events/News-and-Events/News/Article/14483/Religious-and-legal-attitudes-on-refugees#.U7J_zEAck1o
Strange how both Rabbis freely quote the Torah when it suits their purposes, while happily throwing Torah principles overboard. Maybe they should heed the words of Rabbi Simeon ben Gamaliel, who taught:
"The world rests on three things: justice, truth, and peace" (Avot 1:18).
By supporting propaganda and incitement to violence against Jews, they are betraying all three of these principles. Moreover, Jewish sources teach that we have a duty to preserve our lives, which is why Israel must defend herself against genocidal attack, however much it displeases the interfaith Christians (Berachot 32b).
With most of the Jewish community worldwide united in grief at the murder of three innocent Israeli teenagers, the last thing we want is Rabbis who join those who demonise Israel. Much of the blame for this latest act of barbarity must be shared by those organisations that enabled this evil – the UN, EU and the many NGOs that have for years worked to deligitimise Israel. Added to this list are the many churches and Jews who fraternize with the demonisers.
Such Jews might gain short-term kudos and be invited to conferences and symposia, but ultimately they are betraying Jewish principles and contributing to the destruction of Jewish communities everywhere.