Clearly the 'invented people' revel in failure. Reportedly Palestinian rallies on Abbas's return from Washington are reminiscent of Arafat's return from Camp David in 2000.
Mahmoud Abbas returned from Washington on Thursday to a hero's welcome in Ramallah, where he pledged not to give up the Palestinians' rights or betray their trust.
He told thousands of Palestinians at one such rally that in his meeting on Monday with US President Barack Obama, he had "honored his pledge and kept his promise."
That will be a first.!!
Haaretz quoted Abbas as saying to his supporters in Ramallah on  Thursday that "he remained true to his principles and did not bow to American pressure." saying that he had remained true to the national principles of the Palestinian people during his meeting with U.S. President Barack Obama last Monday.
Observers took the statement to mean that Abbas and the Palestinian leadership had not capitulated to pressure from Obama.
"We travelled and we stood by our obligations," Abbas said. "Rest assured that in the end we will prevail. We will be true to our principles and will not compromise them."
Palestinian Authority sources said the shows of support for Abbas conveyed both external and internal messages. Externally, they conveyed to the United States that Abbas would not succumb to pressure.
The Jerusalem Post says:
Thousands of Palestinians staged rallies in several West Bank cities, urging Abbas to resist concessions, "especially on the issue of recognising Israel as a "Jewish state."
"Be assured that we will be victorious. We will keep secure what you have entrusted us with," he said.
An Israeli government source said the rally was reminiscent of Yasser Arafat's return from Camp David in 2000, when it appeared that the Palestinians were celebrating the failure of peace talks.
The second intifada broke out soon after.
"If the Palestinians celebrate rejectionism, they're closing the door to Palestinian statehood, because the only way to achieve a Palestinian state is through negotiations and agreement with Israel," the official said. "A rejectionist position makes Palestinian statehood impossible, and in maintaining such a position ultimately the Palestinians are only hurting themselves."
Khaled Abu Toameh at the Gatestone Institute wrote:
Abbas's rejection of the U.S. proposals for a "framework agreement" with Israel did not come as surprise.
Over the past few months, Abbas and his top aides and negotiators have repeatedly voiced their strong opposition to these proposals, with some accusing the US Administration of endorsing the Israeli stance and failing to serve as a honest broker in the conflict.
Before heading to Washington, Abbas instructed the PA to organize public rallies in the West Bank in his support.
PA employees and schoolchildren were sent into the streets to chant slogans in support of Abbas, urging him not to give in to U.S. pressure, the idea being to send messages Obama and John Kerry that the Arabs/Palestinians are strongly opposed to any concessions to Israel.
When Abbas returned to Ramalllah, the Palestinian Authority organized more rallies in support of him. On March 20 hundreds of PA employees and schoolchildren were sent to welcome Abbas at his presidential office and thank him for resisting U.S. pressure.
Bassam Zakarneh, chairman of the Palestinian Public Employees' Union, said that the rallies were aimed at thanking Abbas for resisting "pressure and conspiracies and upholding Palestinian rights."
The pro-Abbas rallies have drawn criticism from some Palestinians, who said they seemed reminiscent of demonstrations organized by dictators and their security agencies throughout the Arab world.
"These rallies are not real," complained West Bank university professor Abdel Sattar Qassem. "They are similar to what Arab intelligence agencies have been doing — using blackmail and intimidation to force their public servants to show loyalty for the ruler."
This I have heard elsewhere and is worthy of attention.
"Abbas is badly in need of public support, due to increased tensions inside his own party. In the past few days, these tensions have erupted into an all-out confrontation between Abbas and ousted Fatah Central Committee member Mohamed Dahlan.
Dahlan, a former commander of the PA security forces in the Gaza Strip is backed by some Gulf countries and is now waging a public campaign to overthrow Abbas on charges of corruption and abuse of power."
Abbas has retorted by accusing Dahlan of involvement in the death of Yasser Arafat and six Fatah leaders in the Gaza Strip.
"This is a disgraceful war between Abbas and Dahlan," wrote Palestinian editor Abdel Bari Atwan. "We feel ashamed as we follow the exchange of allegations between the two men, who are accusing each other of theft, murder and collaboration with Israel. The Palestinians have become a joke in the eyes of many Arab brothers."
Abbas's rejection of the U.S. proposals is also attributed to the severe crisis within Fatah.
I had heard that Abbas feared for his safety if he didn't refuse the offers placed before him on the table and if in the past he was afraid of Hamas's response to the signing of a peace agreement with Israel, it is now clear that he also has good reason to fear the reaction of top Fatah officials to any move he makes concerning the peace process.
All Abbas can do for now is continue to ask his public servants and schoolchildren to take to the streets and chant slogans in his support. These rallies are intended to send a message not only to Obama and Kerry, but also to Abbas's rivals in Fatah.
Jerusalem Post is quoted as saying:
Abbas also asked Washington to mediate with Israel for the release of Marwan Barghouti, leader of the Fatah-Tanzim militia and a possible presidential contender.
This is worrisome given that Barghouti was sentenced to five life sentences and 40 years in jail in 2004, finding him guilty of orchestrating five murders and an attempted murder, in ambushes and suicide attacks during the second intifada.
Barghouti, now 54, has always denied the charges, and he remains a highly popular figure among Palestinians, portrayed by his supporters as a Nelson Mandela-like figure who could galvanize and reunite their divided political landscape.
Israel has refused to free Barghouti in the past, leaving him out of the prisoner swap struck with Hamas in 2011 for soldier Gilad Schalit, which saw some 1,000 Palestinian inmates go free.
Many Palestinians see the charismatic Barghouti, a senior member of Abbas's Fatah movement, as a top contender to succeed Abbas, who will turn 79 on Wednesday and has no designated deputy. Barghouti was a leader in both the first and second intifadas.
Abbas says he hopes last batch of Palestinian prisoners will be released March 29, despite reservations of some Israeli officials.

This is priceless
"In the Oval Office, Abbas said that he and his predecessors had extended their hands to Israel, recognizing the state according to "international legitimacy resolutions" since 1988.

By invoking that political marker for his organization, Abbas was referencing former Palestinian Authority chairman Yasser Arafat's recognition of Israel's Jewish character – mentioned over 30 times in United Nations Resolution 181, a document respected by the PLO.

"This was a very courageous step on the part of the Palestinian leadership,"
Abbas, meanwhile, has said there is "no way" he will acquiesce to the demand for a public declaration that Israel is a Jewish state.
As a foot note – I wonder if Abbas will publicly say that Israel exists, Jewish or otherwise, seeing as to how as their maps and graphics show otherwise.?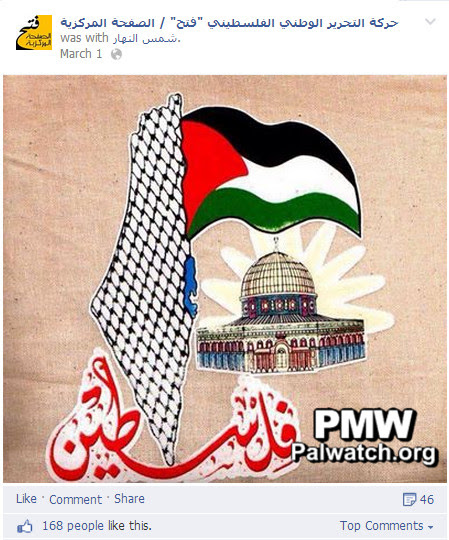 Palestinian Media Watch has documented the PA's regular use of maps that present all of Israel as "Palestine." Click to see more examples of maps that erase Israel.
Fatah also uses maps presenting a world without Israel. The following are examples from Fatah's Facebook page posted in the recent months:
A poster shows a map that includes the PA areas and all of Israel colored in the pattern of the Palestinian headscarf. The Palestinian flag indicates Palestinian political sovereignty.
[Facebook, "Fatah – The Main Page," March 1, 2014]
The most well known being this.